Antibiotic Awareness Community Pharmacy Toolkit
---
For all pharmacists, staff, teams, students patients and healthcare professionals
Sign up and Pledge to become an antibiotic guardian it just takes a few minutes
---
European Antibiotic Awareness Day (EAAD) is held annually in November. It is a European-wide annual event that raises awareness on how to use antibiotics in a responsible way that will help keep them effective for the future.2015 also marked the first World Antibiotic Awareness Week, further highlighting that tackling antimicrobial resistance (AMR) requires global action.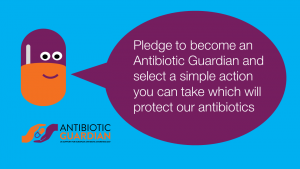 ---
Sign up as an Antibiotic Guardian
As part of last year's EAAD and World Antibiotic Awareness Week, both the public and medical community were asked to become an Antibiotic Guardian by choosing one simple pledge about how they make better use of antibiotics and help save this vital medicine from becoming obsolete.
You can pledge to become an antiobiotic guardian at any time of the year. please encourage pharmacists, teams , staff students and patients to sign up at  www.antibioticguardian.com
---
Keep Antibiotics Working Across Leicester, Leicestershire  & Rutland
European Antibiotic Awareness Day (EAAD) is held annually on 18 November, during World Antibiotic Awareness Week.
These are European and global campaigns that raise awareness on how to use antibiotics responsibly and help protect antibiotic for the future. Without these vital medicines we will not be able to treat simple infections and procedures such as surgery and chemotherapy may be too risky.
During this week in November  community pharmacy teams can support patients, the public and other health professionals to use antibiotics in the best way possible and keep them working. Here are some easy steps to championing antimicrobial stewardship in your pharmacy.
1 – Become an Antibiotic Guardian and get others to sign up
Visit www.antibioticguardian.com and pledge to do one thing to protect antibiotics for the future and get your Antibiotic Guardian certificate. Once you've done this simply encourage your colleagues and patients to sign up too!
2 – Utilise the Leicester & Rutland Community Pharmacy action pack
Written in conjunction with the Antimicrobial Pharmacist team at University Hospitals of Leicester NHS Trust, this action pack gives you all the information you need to promote antimicrobial stewardship in your workplace. As well as supporting patients to protect antibiotics for the future these activities will contribute to your Healthy Living Pharmacy portfolio.
Click here to download the action pack
3 – Review and use the local and national antimicrobial guidelines
Are you up to date with the local guidelines for managing infections in primary care? Not only are there treatment guides for common infections such as lower respiratory tract and conjunctivitis, but there are also pathways for the treatment of cellulitis and drug resistant urinary tract infections. Visit the LMSG website for more information: https://www.lmsg.nhs.uk/guidelines/primary-care/primary-care-guidelines/
The Royal Pharmaceutical Society has also developed an Antimicrobial Resistance & Stewardship hub with supporting resources and a quick reference guide on supporting the best use of antibiotics in the community.
4 – Participate in the CPPE EAAD Challenge and use their learning resources
Starting 23rd October CPPE will be releasing weekly challenges to help you become an antibiotic guardian pharmacy champion. Click here for more information: www.cppe.ac.uk
Through CPPE you can also strengthen your knowledge of antibiotics by completing the antibacterials focal point distance learning or workshop.